This week's cover = graphic from tweet that National Society of Black Engineers holds 41st annual convention


... Other top stories ==>
Kleiner Perkins wins gender bias trial
...
Babson's 2014
online learning report
... and Facebook's Messenger becomes platform for other applications
Below find links to the Digital Learning Lab's "Dozens" of favorite news items about HBCUs' use of information technology to enhance their teaching, research, and community services ... plus news about hackathons and issues related to

coding

& coding literacy

... in HBCU media and Tech media ... for the week ending Saturday

3/28/13

@ 3 pm ... Links to previous editions of the Dozens can be found ==> Back issues.
Qeyno is excited to partner with UNCF HBCU ICE in transforming campuses to STEM HUBS. Learn more at...
http://
fb.me/4cBz50d8B
You were born an original. Don't die a copy!
In culinary school, chefs cook small things to learn technique. Hackers do the same at hackathons. It doesn't have to be a 5-course feast.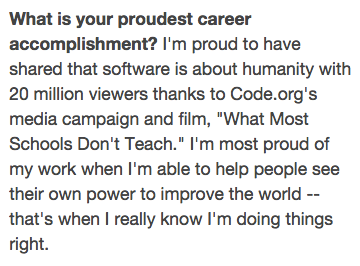 Views: The real divide in education is between faculty members and the ed-tech industry:
http://
bit.ly/1C7eVew
Finance vs. Tech: Why Wall Streeters Defecting to Silicon Valley Is Good News for the Economy
http://
nyti.ms/1xv3E9p
F. Tech Calendar
Events announced this week can be found on the DLL's calendar ==> HERE